All-Inclusive Redefined – At UNICO 20°87° Hotel Riviera Maya we embrace the local, from the food and drink to the spa treatments, to a selection of curated adventures. There is no lack of comfort, with custom bath amenities, a fully-equipped fitness center, 24-hour room service. It's a completely new standard for the all-inclusive vacation.
Exclusive Experiences – True luxury awaits you in the Riviera Maya. Guests at UNICO 20˚87˚can enjoy miles of white sand beach and an array of things to do on the property and nearby. We'll take your stay to the next level with activities and services crafted for you.
Unicostum Hats
UNICO Yoga
Wine & Art
Mixology Master Class
Custom Beer Garden
UNICO 20˚N 87˚W - RIVERIA MAYA
Incorporating clean lines and natural materials, the spacious Alcoba offers either a tropical or pool view, an outdoor hydro spa tub and exterior lounging area where you can relax and enjoy the outside air. Touches of sisal rope and hand-crafted local pieces are prominent design elements, helping to give the space a modern sensibility.
Includes
Exterior hydro spa tub
Terrace with lounging area
Bathroom with sliding door and sliding window
Single rain showers with hand shower
Separate shower and WC
Double sinks
Additional bathroom amenities
55 Inch TV
Unique, curated custom designed furniture and local art pieces
In-room mini bar
Amenities
Nespresso coffee machine
Hair blow dryer
Flat iron by request
Bathrobe and slippers
Aromatherapy and pillow menu
Custom scent amenities
Locally sourced soaps
JBL Bluetooth sound system and alarm
Conveniently located USB charging stations
Free calls to the continental U.S. and Canada
Complimentary high-speed Wi-Fi
24-hour room service
SINGLE $3799 per person | DOUBLE $2299 per person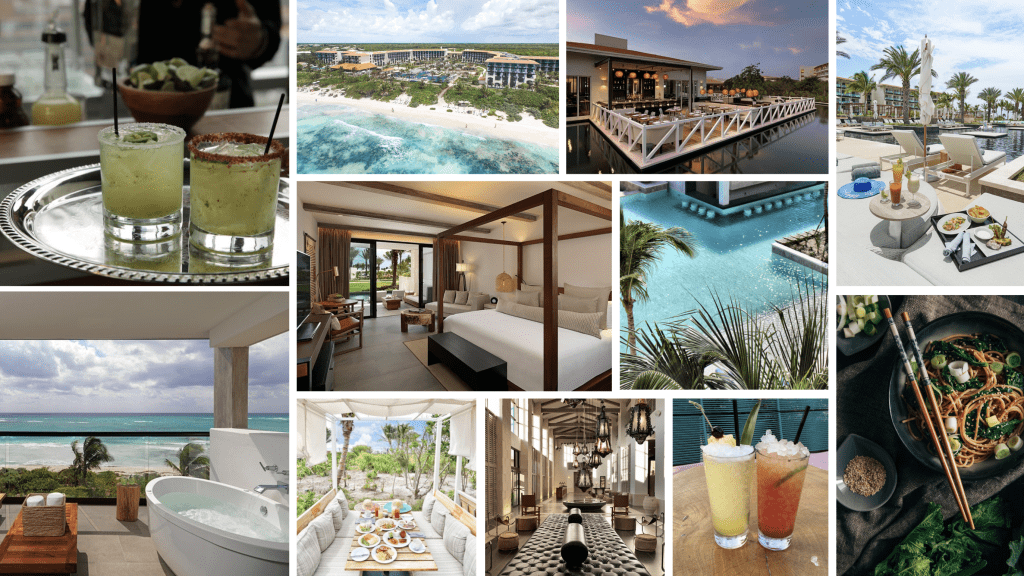 WHAT'S NOT INCLUDED:
Gratuities for Drivers
Travel Insurance
Flight to Cancun International Airport (CUN)
Items of a Personal Nature
AUTOMATIC BILLING PLAN:
You can enroll in our automatic billing, and relax knowing that your future payments will be made automatically. When you book, we'll calculate an evenly divided automatic billing plan for you and you will know in advance the day of every month that your payment will be processed. Your initial deposit is due at the time of booking, and your future payments will be charged according to the schedule you see on your invoice. Automatic billing is available at no charge.
TRAVEL INSURANCE:
Missing a vacation is bad enough. Losing the money you paid for your vacation is even worse. Trip insurance is therefore recommended. You can purchase travel insurance on your own.
TRAVEL NOTES:
Traveling to the Cancun requires a passport valid for six months beyond your travel dates. Please take a look at your passport right now to be sure it does not expire on or before January 15, 2025.
Refunds will not be provided for expired passports.
When making your reservations, you can choose to pay in full or select our convenient payment plan. If you select a payment plan, you will automatically be added to our automatic monthly payment plan option. You can opt-out of this program by emailing us at info@thetraveldivas.com.
Please review our Auto Payment Plan Option.
If you choose the monthly payment plan, you will receive monthly notices when your payment is due.
Provided full payment is received no later than your Final Payment Due date, travel documents, itineraries and travel instructions will be sent via email 30 days or earlier prior to travel.
Please be mindful that we suggest and recommend all attendees should arrive into Cancun on July 11, 2024, before 4 pm.
It is the guests' responsibility to notify Premier Travel One and Travel Divas of all email address changes.
Men are welcome to attend this event at the same price. No children under 18 allowed as this is an adult inclusive property
You MUST purchase your own flight to Cancun before May 15, 2024.
Once you purchase your flight you should enter your flight information into our database, so we can ensure a shuttle is ready to transfer you to resort. Enter your flight HERE.
Making reservations for this package signifies your acceptance of our Terms and Conditions.
All of your payments to Premier Travel One and Travel Divas are non-refundable and non-transferrable.
Reservations must be made in your FULL NAME as it appears on your government-issued identification
Prices are subject to change without notice. Please make your reservations today at this low price to be locked in
Monthly payments are required to keep your reservations current.
You must ensure your roommate, if applicable, is also making timely monthly payments.
Roommate Matching is available.
Name changes are allowed with a $50 name change fee.
Late payment of $100 per person is required after final due date.
Management must approve all late payment requests before the final payment date on your account.