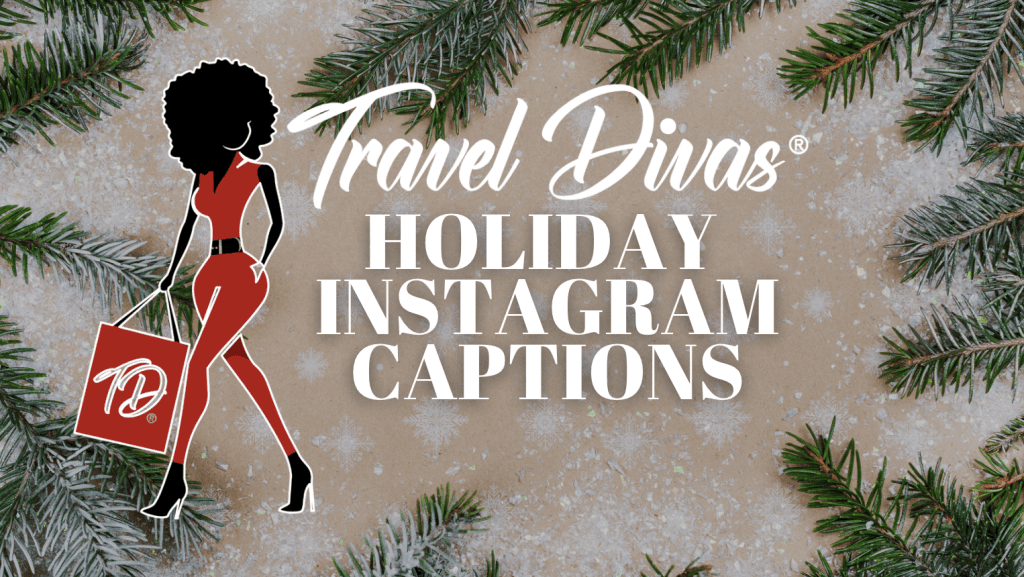 1. Y'all got cute to go to the living room – I'm getting cute to go to the airport. Bye! 🙌🏾
2. Me and travel go together like cornbread and collard greens🤞🏾
3. Imma have to work off this Christmas Brunch meal before my next @traveldivas vacay!
4. Another drama-free Christmas out the country and out the way 😴✈️
5. Can't wait to be the bougie auntie who only flies in for holidays 😎
6. Listennnnn, after that cooking class on my last @traveldivas trip, I'm 'bout to put my foot in this Christmas brunch!
7. Imma let winter finish, but Christmas in Cabo is looking like the move. 👀
8. All Mariah wanted for Christmas is you, but I need a vacation!
9. I'm drinking this pumpkin spice latte, but deep down I really want a fruity drink with a lil' umbrella in it 😩
10. Heard it's snowing at home … Can't relate. I'm in the tropics with @traveldivas 😜
11. Every day feels like Christmas in Dubai!
12. Bought myself another trip across the world with @traveldivas for Christmas 🎁 Thank you, me!
13. Christmas hits different when you're in the Caribbean with @traveldivas!
14. Due to getting myself a 5-star @traveldivas vacation, the rest of you will be receiving thoughts and prayers from me for Christmas 😂
15. The only white I'll be seeing this Christmas is at the @traveldivas VIP all-white reception dinner 💅🏾
16. Santa said you wanted some Black girl magic for Christmas, so here's me on a @traveldivas trip!
17. Is it just me or are they playing the Christmas music extra early this year? 🤔 That can only mean 1 thing: time to start planning my 2023 trips!
18. Skipped the Christmas party this year. Booked a trip with @traveldivas instead!
19. What should I get myself for Christmas? A Cabo trip? A Dubai vacay?
20. Whew chile, Christmas vacay drained me. Time to book a @traveldivas trip to recover 😂
Want more travel inspo? Get ready to sprinkle your Black girl magic all over the world with more tips and lists just like this when you subscribe to the Travel Divas email list: http://bit.ly/TD-signup