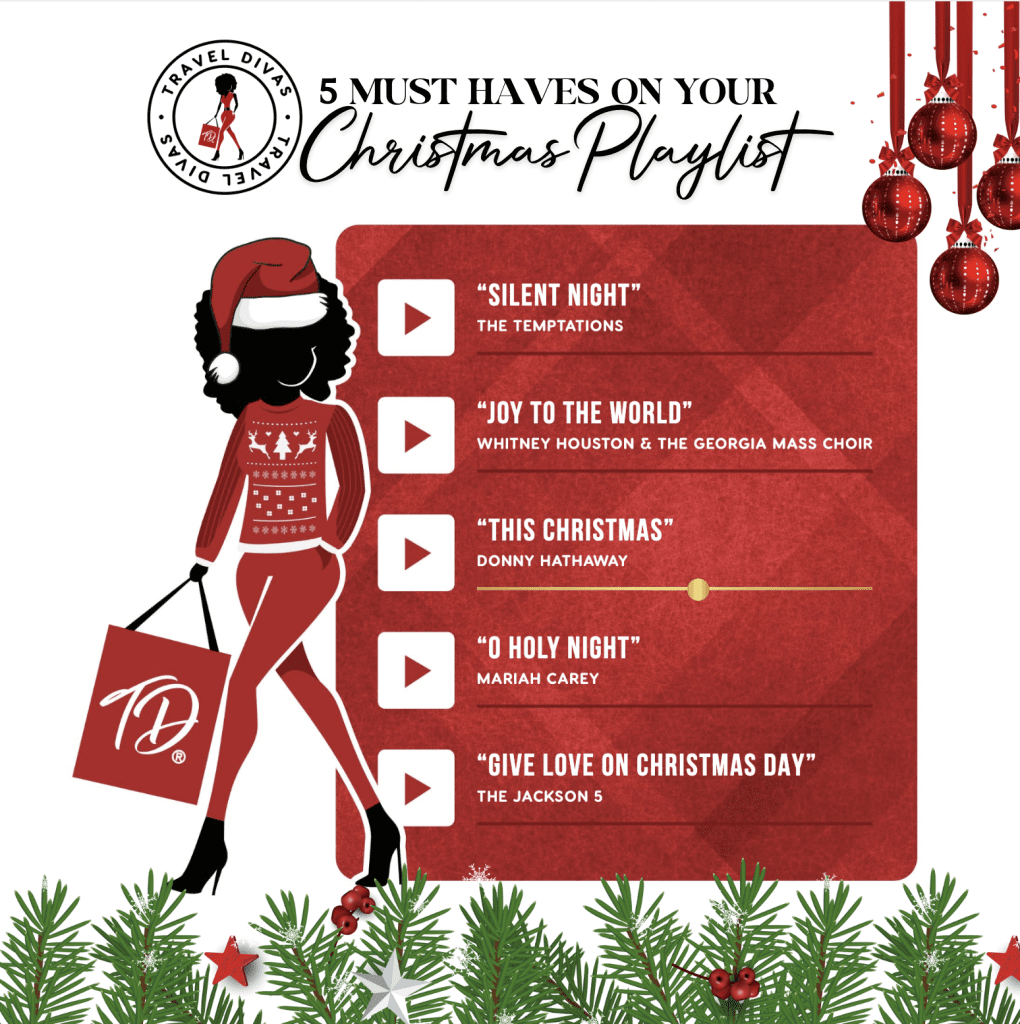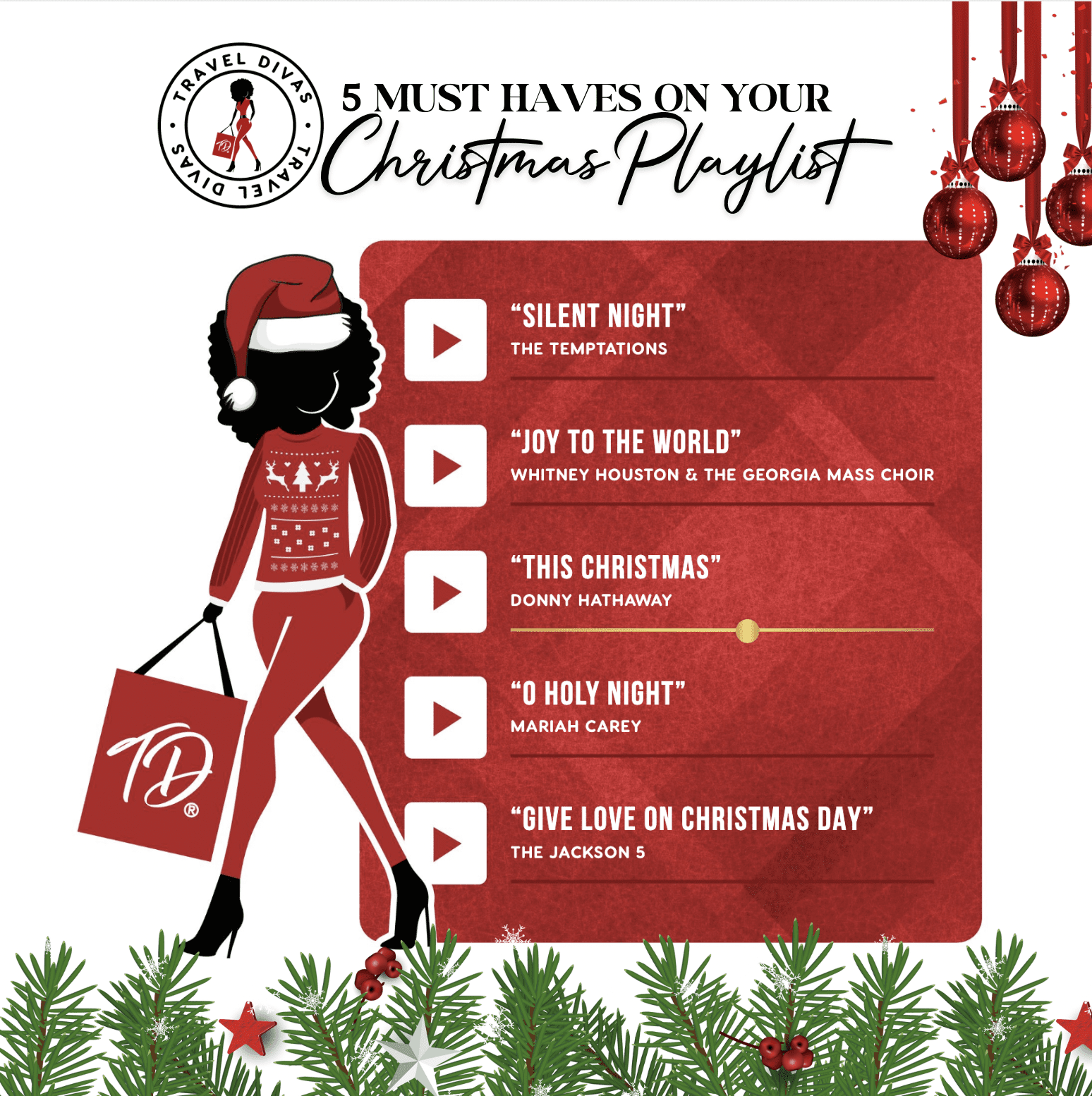 This year flew by, and it's already Christmastime!
Now that the holidays are here, we can't help but feel a little merrier. And if you don't, a Christmas playlist can put you in a festive mood.
You see, Christmas music is the perfect way to lift your spirits, spread joy and relive wonderful holiday memories. Whether you're playing your favorite Christmas songs at a holiday party, jamming on your way to work, or singing along as you wrap gifts, nothing is a better mood-booster than holiday tunes!
Now at Travel Divas, you know we put a little twist on everything. And that includes Christmas tunes! We filled our playlist with soulful renditions of classics and original songs by some of the greatest artists of all time.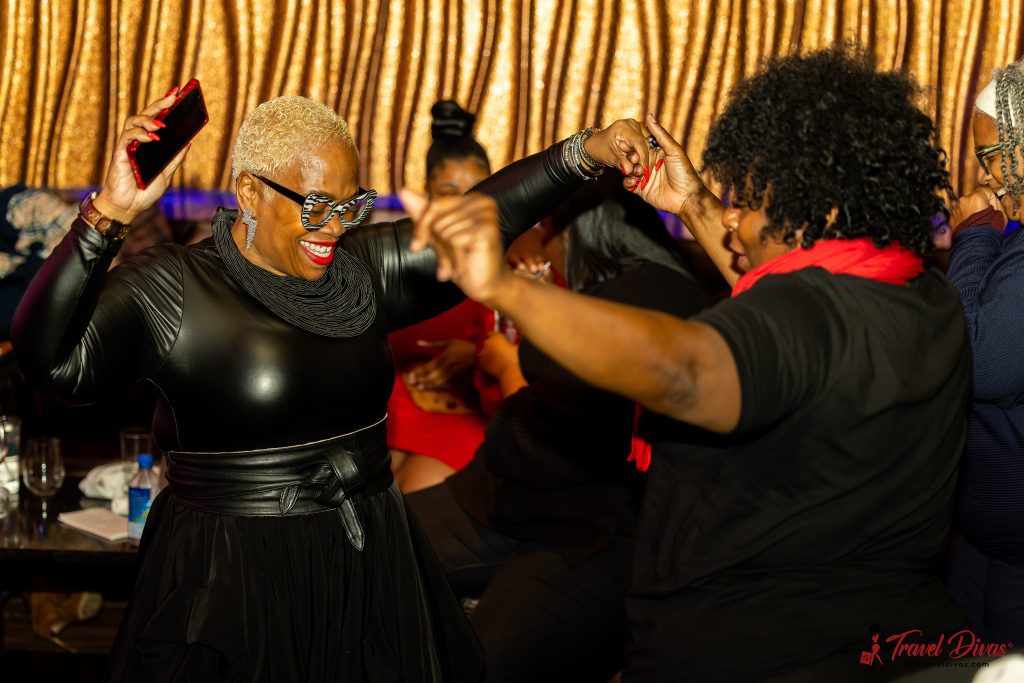 Read on to see which Christmas songs are our holiday playlist must-haves!
Song #1: "Silent Night" by The Temptations
The Temptations' version of "Silent Night" is unbeatable.
Although they first released this song in 1968, it never gets old. And when Melvin drops that baritone melody, it gives us chills every time! They may not have recorded it first, but it's definitely a staple in our house.
Song #2: "Joy to the World" by Whitney Houston and The Georgia Mass Choir
Whitney made every song she sang her own, and "Joy to the World" is no different.
This version of "Joy to the World" starts off with a series of beautiful runs and high notes from Whitney. Then, the choir joins in to add a supercharged dose of joy to this Christmas standard. Put this one on whenever you need a little pick-me-up during the holidays!
Song #3: "This Christmas" by Donny Hathaway
No Christmas is complete without this song. We bet you started humming as soon as you read that.
See, "This Christmas" has been on heavy rotation every holiday season since 1970, and it's the perfect way to get people of all ages in the Christmas spirit. If you play this song at your holiday party, you're sure to get everyone singing along!
Song #4: "O Holy Night" by Mariah Carey
Look, Mariah Carey is the unequivocal queen of Christmas bops and there's one song you might've thought of first, but don't sleep on O Holy Night!
She divafied this Christmas classic and added a modern flair (along with her signature whistle notes) to it. This song is a surefire way to get in the holiday spirit.
Song #5: "Give Love on Christmas Day" by The Jackson 5
This tune by The Jackson 5 is a great reminder to spread love and holiday cheer to all you meet!
"Give Love on Christmas Day" is all about showing love to everyone you meet … from family to neighbors, to random people on the street, and everyone in between. It reminds us to put our focus on spreading joy this holiday season.
These songs will surely get you and everyone you play them for in the holiday spirit! Add these soulful Christmas jams to your playlist for an instant mood boost. Ready to take your festive playlist on the road and set off on a holiday vacay? Check out our 2023 festive trips.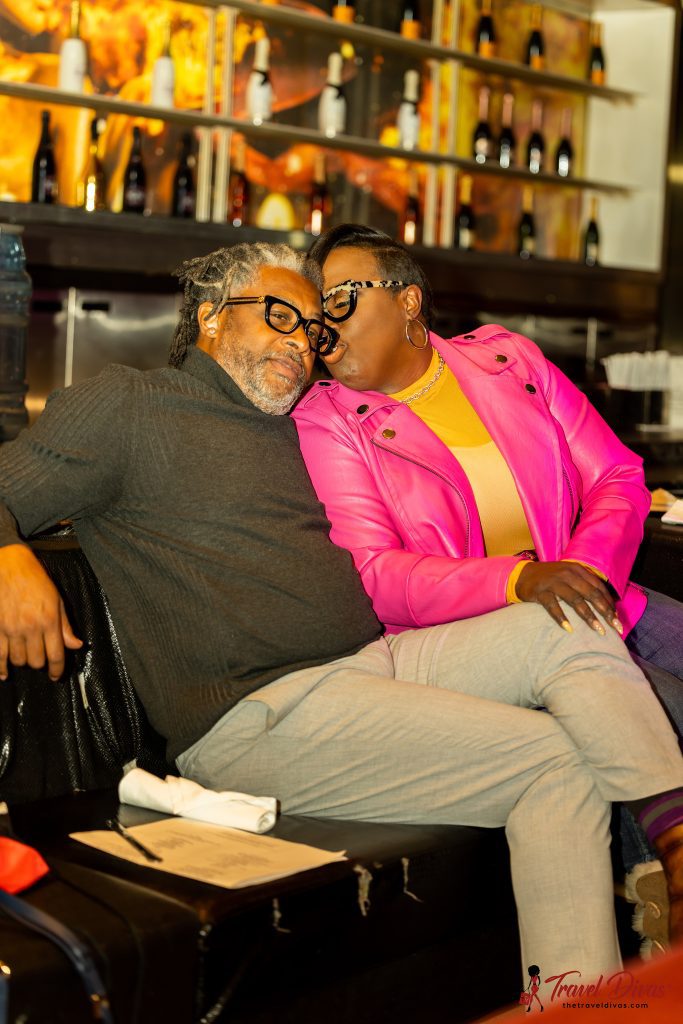 Check out our 2023 festive trips.
Switzerland https://thetraveldivas.com/trip/switzerland-2023-trip-2/
Ghana NYE: https://thetraveldivas.com/trip/ghana-nye-2023/
Los Cabos: https://thetraveldivas.com/trip/christmas-in-cabo-2023/
Dubai NYE: https://thetraveldivas.com/trip/dubai-new-years-eve-2023-24-tour-3/
Maldives: https://thetraveldivas.com/trip/maldives-2023-tour-2/