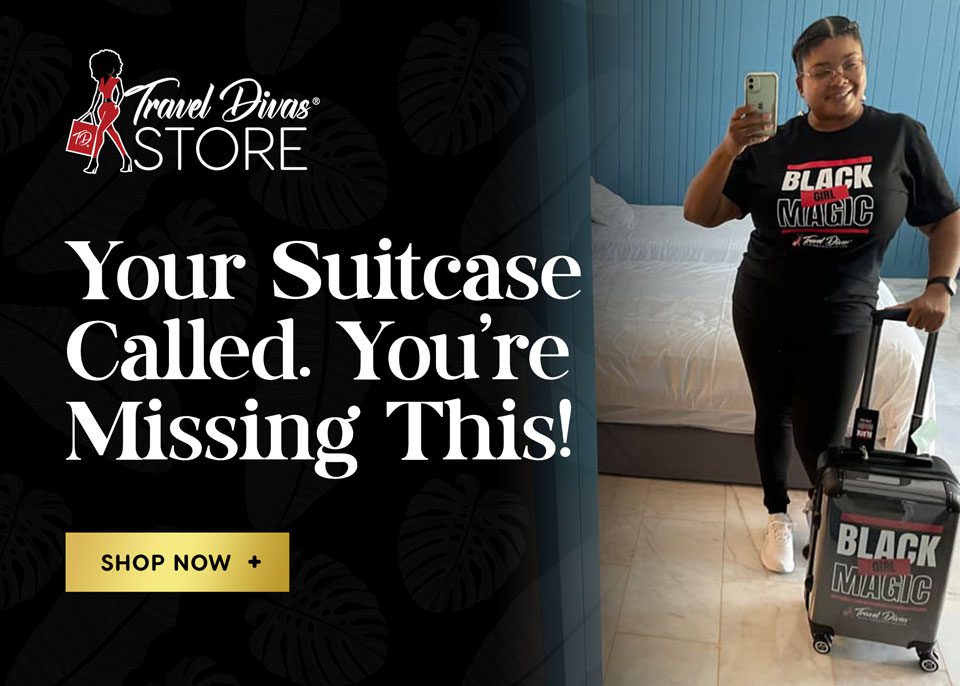 Listen, we love a good bougie Target run as much as the next Diva. But when it comes to traveling like a bawse, we need something more!
Sure, they've got some of the essentials but a Travel Diva like you deserves something a little more fabulous.
Enter: The Travel Diva Store!
Yup, that's right. Not only do we pamper you with luxurious getaways and exclusive perks but we've also got the goods so you can travel in style.
Take a sneak peek inside:
Graphic Tees & Tanks
Whether you're looking for the perfect airplane outfit or a relaxed tee you can rock while you're sipping margaritas on the beach, we've got the butteriest soft threads you can imagine. Let the world know you're Black and Dope AF, on Airplane Mode or that you sprinkle Black Girl Magic on the regular!
Totes, Weekenders & Suitcases
Every Travel Diva needs a fashionable bag for her adventures. Whether you're backpacking it over the weekend, shopping on a Sunday or need a tote to hold all your fabulous finds on your next excursion, we've got you. Yup, carry-ons, cord and accessory pouches and weekend bags, everything.
Journals & Slides
Slip into vacay mode with our comfortable slides. Pair them with our deluxe embossed journals and you've got the perfect poolside journaling sesh. Whether you want to get through TSA quickly or lounge around your hotel room, these slides are a must.
Neck Pillows, Canteens & Water Bottles
Divas always stay comfortable and our branded water bottles, canteens and neck pillows let you do just that. Forget those dingy, overpriced items at the airport and travel in style with us.
Whatever you need to feel like a Travel Diva while you sprinkle your Black girl magic all over the globe, you'll find it right here.
Shop The Travel Diva Store now: https://www.thetraveldivasstore.com