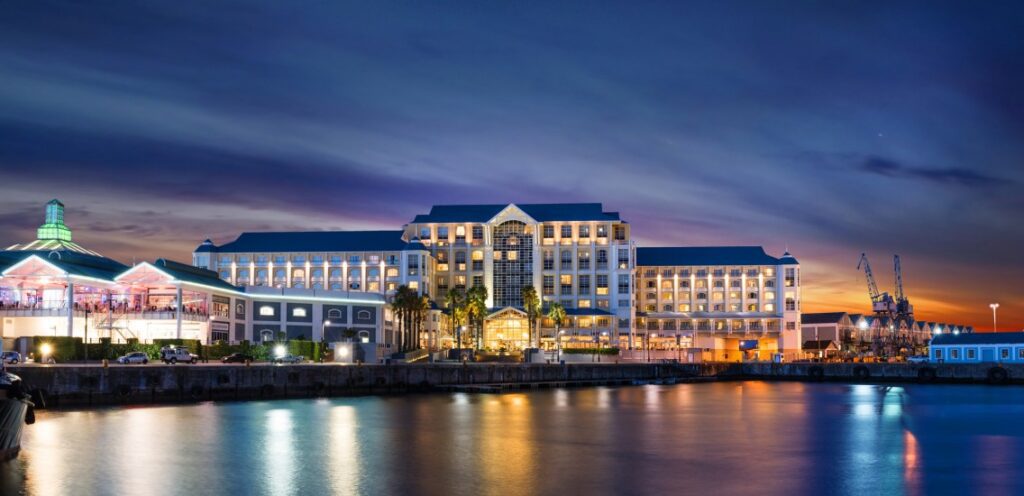 Listen, it could just be us, but we love looking up a place before we get there. Restaurants, stores and coffee shops all get the once over on Google or Yelp before we visit. And especially hotels! Now, here at Travel Divas, you never have to worry about looking up whether a hotel is the bomb.com or not.
We only book crème de la creme Diva-worthy hotels to serve as your home away from home.
And The Table Bay Hotel in Cape Town – our top choice for your accommodations when you sprinkle your Black girl magic with us in South Africa in 2023 – is no exception.
With over 1,500+ 5-star Google reviews and 3,000+ 4.5-star TripAdvisor ratings (it's labeled a Travelers' Choice Hotel!), The Table Bay Hotel can best be described with a single word:
Stunning.
Located on Cape Town's historic Victoria & Albert waterfront, you'll awake to dazzling sunrises and celebrate breathtaking sunsets with champagne as you chat it up with your fellow Divas at some of the hotel's finest dining establishments.
There are over 70 restaurants within half a mile and the hotel is attached to the mall, so you're in the perfect spot to indulge in spectacular shopping and food.
From Portuguese fare at Mozambik V&A Waterfront to South African specialties at Karibu and a full Japanese kitchen at Willoughby & Co, your tastebuds will be delighted by the wide array of culinary choices available.
Now, we can tell you allll about how the hotel's understated luxury is where the magic is at, but truth be told, it's the stellar customer service!
Take a quick look at any of the reviews and the first thing you'll notice is that everyone is treated like royalty at The Table Bay.
You wouldn't expect anything less from Travel Divas, right?
Now, we love top-notch service, but with ocean views, saunas, hot tubs, spas, heated pools, private balconies, massages and even butler service – it's hard to pick which hotel feature is our favorite.
(Though, if we're being honest, the marble bathroom sinks and heavenly whirlpool baths come reaaaaal close.)
Now, here's the thing: if the hotel you'll stay at when you come with us to South Africa is this poppin' … you won't believe how lit the actual trip is gonna be.
See for yourself right here: https://thetraveldivas.com/trip/south-african-tour-2023/