Feb 26, 2022 -
Mar 05, 2022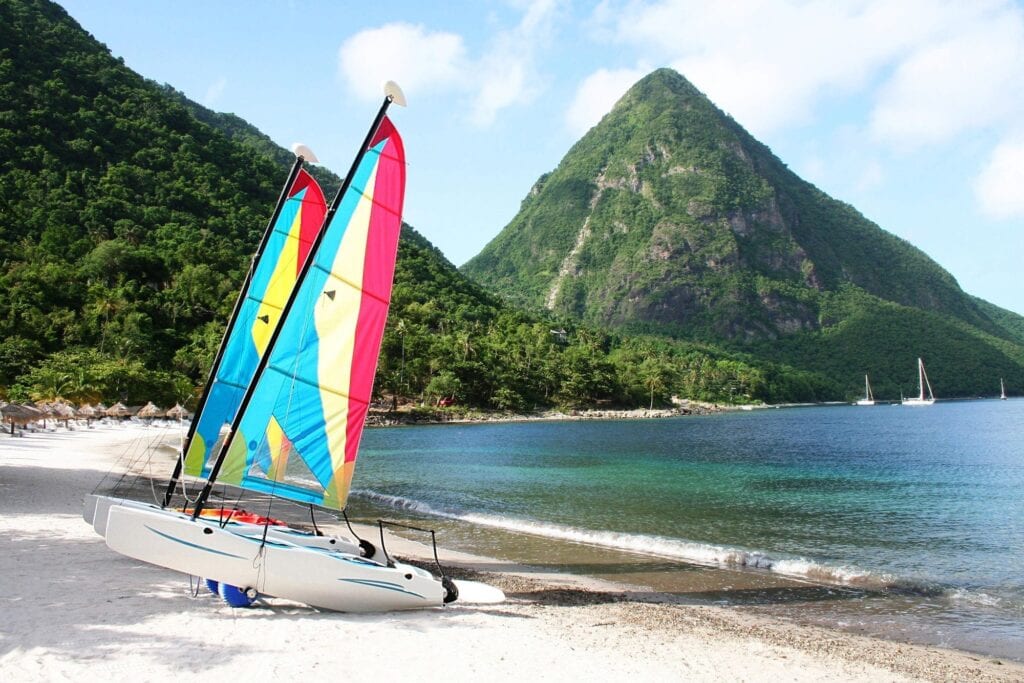 Feb 26, 2022 -
Mar 05, 2022
SINGLE: $1835 per person | DOUBLE: $1280 per person
WHAT'S NOT INCLUDED:
Gratuities for Drivers
Travel Insurance
Flight to St. Lucia
Items of a Personal Nature
AUTOMATIC BILLING PLAN:
You can enroll in our automatic billing, and relax knowing that your future payments will be made automatically. When you book, we'll calculate an evenly divided automatic billing plan for you and you will know in advance the day of every month that your payment will be processed. Your initial deposit is due at the time of booking, and your future payments will be charged according to the schedule you see on your invoice. Automatic billing is available at no charge.
TRAVEL INSURANCE:
Missing a vacation is bad enough. Losing the money you paid for your vacation is even worse. Trip insurance is therefore highly recommended. You can add travel insurance to your reservations for $89.99. View insurance plan.
TRAVEL NOTES:
Traveling to St. Lucia requires a passport valid for six months beyond your travel dates. Please take a look at your passport right now to be sure it does not expire soon.
Refunds will not be provided for expired passports.
When making your reservations, you can choose to pay in full or select our convenient payment plan. If you select a payment plan, you will automatically be added to our automatic monthly payment plan option. You can opt-out of this program by emailing us at info@thetraveldivas.com.
Please review our Auto Payment Plan Option.
If you choose the monthly payment plan, you will receive monthly notices when your payment is due.
Provided full payment is received no later than your Final Payment Due date, travel documents, itineraries and travel instructions will be sent via email 30 days or earlier prior to travel.
Please be mindful that we suggest and recommend all attendees should arrive in St Lucia on April 16 before 4 pm.
Royalton Saint Lucia is located approximately 30 minutes from the George F.L. Charles Airport and 90 minutes from the Hewanorra International Airport (HIA). If the scenic road trip is not your preference, helicopter transfers are available from the international airport.
Check-In: 3:00 pm. Check-out: 12:00 noon
It is the guests' responsibility to notify Premier Travel One and Travel Divas of all email address changes.
Men and children are welcome to attend this event at the same price.
You MUST purchase your own flight to St Lucia before February 28, 2020 so we can forward your information to the vendor to prepare for your airport transfer.
Once you purchase your flight you should enter your flight information into our database, so we can ensure a shuttle is ready to transfer you to resort. Enter your flight HERE.
Making reservations for this package signifies your acceptance of our Terms and Conditions.
All of your payments to Premier Travel One and Travel Divas are non-refundable and non-transferrable.
You have the opportunity to purchase travel insurance for $89.99 at the booking of your reservation. Please note all reservation cancellations will incur a $200 cancellation fee.
The Vacation Protection Insurance allows you to cancel your trip 48 hours or more before your original scheduled departure time for any covered reason and receive a refund [in a form Arch Insurance deems appropriate] equal to 100% of the unused non-refundable prepaid expense, less the VPI fee, less a $200 cancellation fee.
Reservations must be made in your FULL NAME as it appears on your government-issued identification.
Prices are subject to change without notice. Please make your reservations today at this low price to be locked in.
Monthly payments are required to keep your reservations current.
You must ensure your roommate, if applicable, is also making timely monthly payments.
You can log-in to our client portal to view your account 24 hours a day.
Name changes are allowed with a $50 name change fee.
Late payment of $50 per person is required after final due date. All late payment requests must be approved by management before the final payment deadline on your account.