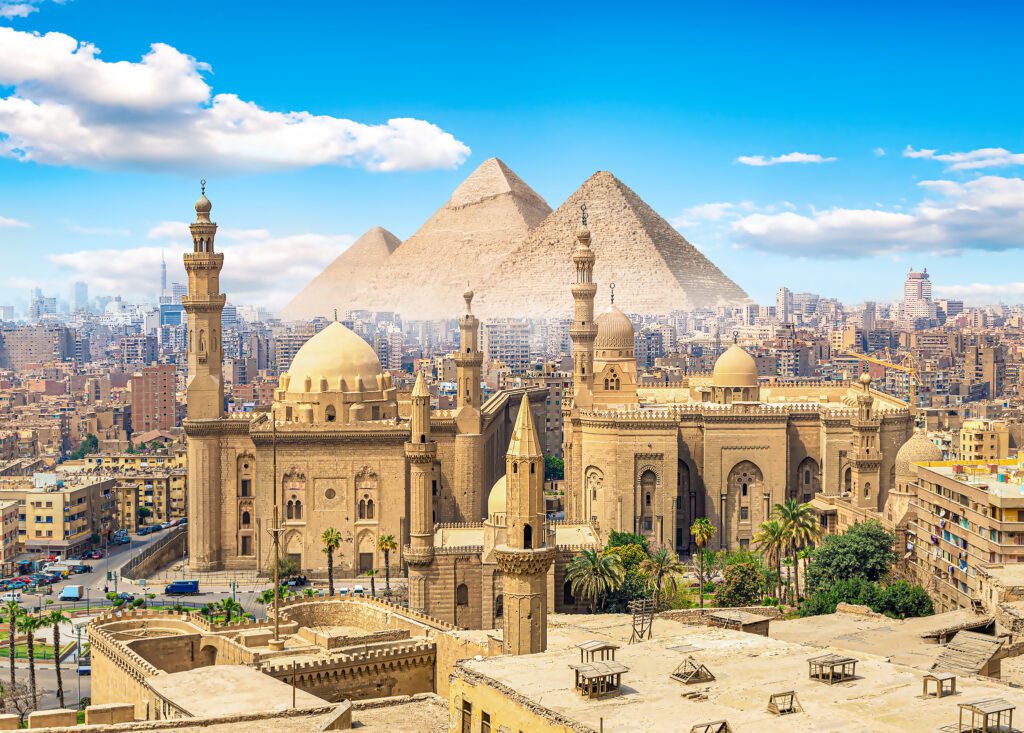 Journey to the Center of Civilization
You are a modern life queen. A corporate powerhouse. An entrepreneurial hustler. A hard-working woman who has built their own empire (whether you'd like to think of your life as that or not). But sometimes a modern life queen needs to take a look back at her roots to understand what the Queens of the ancient age lived like.
And that's exactly what the 2024 Travel Divas Egypt Excursion is all about. A once-in-a-lifetime tour of the gold-imbued temples, physics-defying pyramids and the rich, blue waters of the Nile. With this trip you can explore one of the most history-rich destinations in the world… Egypt.
Marvel at the oldest structure of the "seven wonders of the ancient world" the Great Pyramid of Giza
View the world-famous Aswan High Dam, an engineering miracle, built in the 1960s
Discover the Temple of Philae dedicated to the goddess Isis with its beautiful island location
Enjoy a 3-day cruise on the Nile and savor the spectacular scenery of the Nile Valley
Explore the imposing Greco-Roman Temple of Kom Ombo
Tour the stunning Temple of Edfu, dedicated to the falcon god Horus, built in the Ptolemaic period
Visit the magnificent Temples of Karnak, dating back over 3,000 years
Admire the two colossal statues of Ramses at the entrance to the ancient Luxor Temple
Egyptian Cooking Class
Intercontinental Cairo City Stars
Situated next to Citystars shopping mall, this 5-star luxury hotel has large outdoor swimming pool and 10 varied restaurants.
Intercontinental Cairo Citystars' spacious rooms offer luxury furnishings and LCD TVs with more than 150 satellite channels. Allergy-free rooms are available on request.
The Lifestyles Health Club and Spa has a hydro pool, massage treatments, sauna and steam bath. Daily aerobics classes are available at the gym. Guests above 16 years old can enjoy Health Club facilities.
InterContinental Cairo Citystars offers various dining options such as the Japanese cuisine at Shogun restaurant, Lebanese delicacies at Fayruz restaurant, traditional Italian cuisine at Maestro restaurant and authentic Egyptian cuisine at Al Khal restaurant. You can also enjoy your favorite cocktail at Bellini Cocktail Lounge or The Lounge overlooking the pool.
FULL PACKAGE WITH AIRFARE FROM JFK
SINGLE: $8259 per person   |   DOUBLE: $6259 per person
WHAT'S NOT INCLUDED:
Gratuities for Driver and Tour Guide (suggested $12 per day for guide and $7 per day for driver)
Entrance inside Pyramids
Travel Insurance
Items of a personal nature
Meals except where noted
Beverages during breakfast or any meals
TRAVEL INSURANCE:
Missing a vacation is bad enough. Losing the money you paid for your vacation is even worse. Trip insurance is therefore highly recommended. Your premium is related to your trip cost, so you don't have to worry about being over-insured. Suggested Travel Insurance are below. Please also ask about a "Cancel For Any Reason" plan.
Click here to see our referrals.
FLIGHT SCHEDULE:
MS 986 19MAR JFKCAI 18:30 PM 11:45 AM 20MAR
MS 082 22MAR CAIASW 07:00 AM 08:25 AM
MS 067 25MAR LXRCAI 19:15 PM 20:25 PM
MS 985 27MAR CAIJFK 10:25 AM 15:25 PM
Flight schedules are subject to change
NOTES:
Men and children are welcomed.
Visa required. Single-entry visas valid for 30 days may be purchased upon arrival. Cost is $25 and payable only in cash. Exact change required. No credit cards accepted. Upon arrival, proceed to one of the bank kiosks in the Immigration hall to obtain a self-adhesive visa sticker. Apply the sticker to a blank page of your passport and proceed to the immigration desks. Passport must be valid for at least eight months after the travel date. Please make sure your passport does not expire on or before November 27, 2024.
All prices are based on the rates of exchange in effect at the time of price quotation. In the event that the US dollar devalues, Premier Travel One and Travel Divas reserve the right to increase prices accordingly. Your final invoice will reflect increases resulting from currency devaluation.
Please note that our group flight leaves JFK on March 19, 2024, and arrive in Cairo on March 20, 2024. Check-in at the hotel begins on March 20, 2024.
Please be mindful that we suggest and recommend all attendees arrive into JFK at least 4 hours before the group's flight time. For peace of mind, you should additionally consider flying into JFK on March 18, 2024 and stay one night at a nearby hotel. We recommend the Hilton Hotel at JFK or Hampton Inn JFK.
Roommate Matching is available. If you require a roommate match, please indicate on the reservation form where it asks for your roommate name, please enter: "roommate match".
Making reservations for this package signifies your acceptance of our Terms and Conditions.
All payments to Premier Travel One d/b/a Travel Divas are non-refundable and non-transferable. This is because Premier Travel One d/b/a Travel Divas has contractual agreements with hotels, airlines and other vendors that will not allow us to obtain any refunds. This way we can keep our package prices low and allow you to make monthly payments on your vacation.
Passengers are responsible for ensuring that they have the proper travel documents and MUST CHECK with the respective consulate(s) or visa agency to determine whether any visas or passports are required. Passports are required to be valid for at least 6 months after the date of travel. Some countries require a full blank "VISA" page in the passport for stamping purposes. Any information provided on travel description pertains to US citizens only. Non-US citizens should check with the respective consulate of the country(s) to be visited for current entry requirements.
Reservations must be made in your FULL NAME as it appears on your passport. Your name on your invoice MUST match your passport.
Missing a vacation is bad enough. Losing the money you paid for your vacation is even worse. Therefore, we recommend Travel Protection that helps provide coverage for Trip Cancellation, Interruption, Baggage Loss or Delay, Medical Expenses and more.  We also suggest Suggested Travel Insurance:
Seat assignments ARE at the discretion of airlines. Seats for this group tour are only located in economy class.
Prices are subject to change without notice. Please make your reservations today at this price to be locked in.
Monthly payments are required to keep your reservations current. Your invoice will clearly note your payment plan. We suggest you put this payment plan on your personal calendar.
You must ensure your roommate, if applicable, is also making timely monthly payments.
Roommate Matching is available. Review our Roommate Matching Program.
You can log-in to our client portal to view your account and reservations 24 hours a day.
Name changes are allowed with a $200 name change fee up until the final payment date and $250 + any vendor's fees after the final payment date on your payment plan.
Late payment of $250 per person is required after final due date listed on your payment plan. Late payment fees are automatically added to your reservations the day after your final due date.
All late payment requests must be approved by management before the final payment deadline on your account