NOVEMBER 28 - DECEMBER 10, 2024
MS Seaventure
from Ushuaia, Argentina​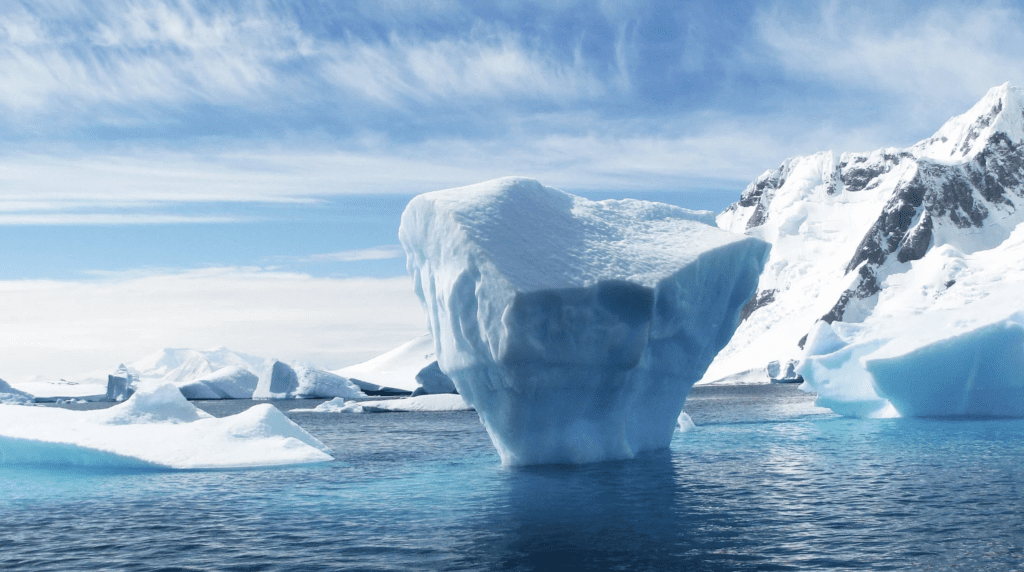 MS Seaventure
from Ushuaia, Argentina​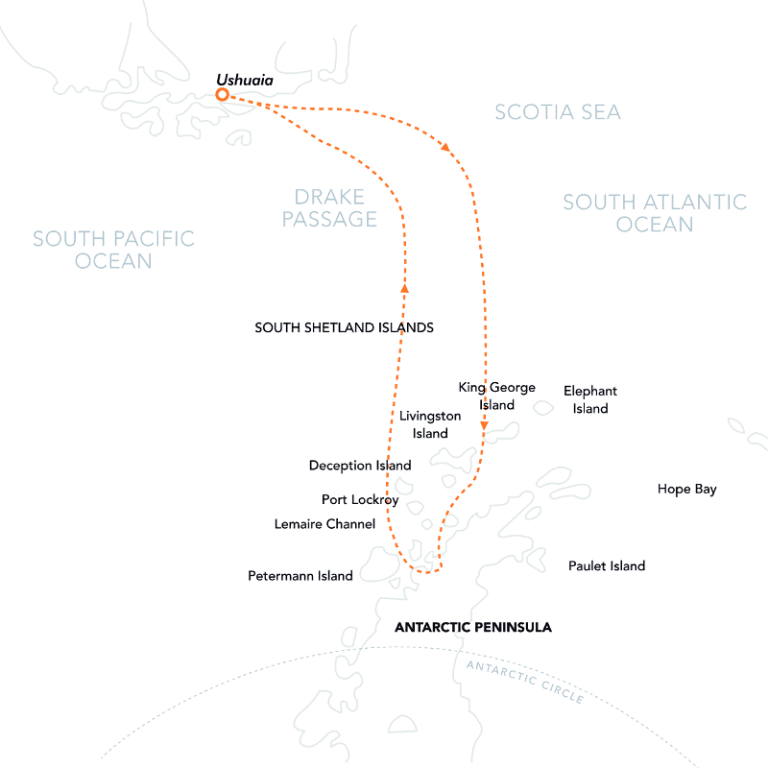 A Bucket-List Trip to Remember
Charting a course through the Drake Passage and along the Antarctic Peninsula, this voyage offers incredible opportunities to explore the striking shores of the last wild place on earth. The abundant wildlife, endless vistas, and fascinating science and history of the area will leave you speechless.
TRIP HIGHLIGHTS
Visits to some of the most stunning bays and channels of the Peninsula
Magnificent wildlife encounters with penguins, whales, seals, and seabirds
Zodiac cruising amongst colossal glaciers and massive icebergs
Potential stops at active scientific bases and historical sites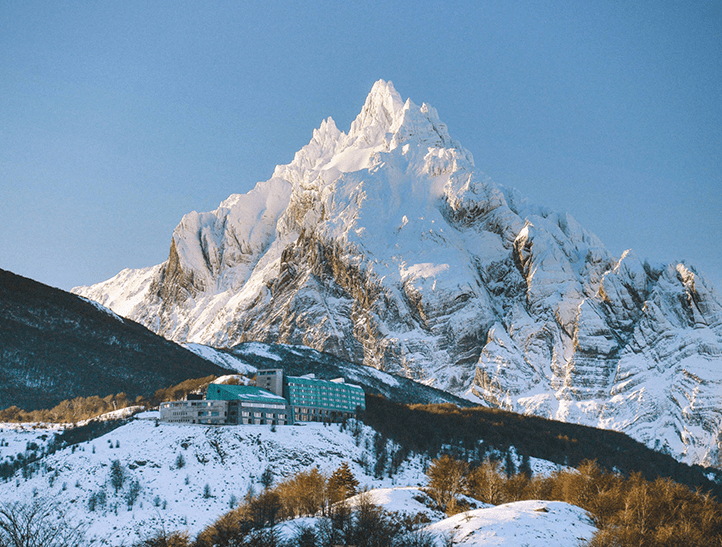 COMFORT & SPACE WITH A SEA VIEW
Located in a privileged environment, on a natural balcony 800 feet above sea level inside the Cerro Alarkén Nature Reserve, the Arakur Resort and Spa is much more than a luxury hotel. Surrounded by stunning panoramic views, native forests, natural terraces and green areas harmoniously integrated into the environment, it's an experience that will be forever etched in your memory. All voyages that embark in Ushuaia begin with a stay at the Arakur.
HOTEL AMENITIES
Pools
Water jets, hot tubs, watersports. More than 300 sqm of water bodies resulting from rainfall and glacier melting; are treated and heated for each particular use.
Indoors Activities
The fitness center, devoted to physical care, is equipped with state-of-the-art Technogym exercise machines.
Outdoors Activities
Having those who live nature intensely in mind, Arakur was designed to enjoy multiple outings and activities.
Arroyo Grande meadows
Río Chico Waterfall and beaver lodges
Forest footpath
Ascent to Cortés Hill
Andorra Valley, Vinciguerra Glacier and Iceberg Lagoon
Wildlife watching within Reserva Natural Cerro Alarkén.
DELUXE ROOMS
Built in a privileged enviroment, inside the Natural Reserve Cerro Alarkén, Arakur is much more than a luxury hotel. It is an experience that will leave an impression in the memory of your visitors.
Elegantly decorated with contemporary design details and equipped with the latest comfort technology.
ACCOMMODATIONS INCLUDE:
Panoramic views in every room
International Power Outlets
Breakfast
Wi-Fi Internet and Business center
Guided hiking tours in Cerro Alarkén
Ushuaia city center shuttle
Heated pool and Gym Facilities
MS SEAVENTURE FROM USHUAIA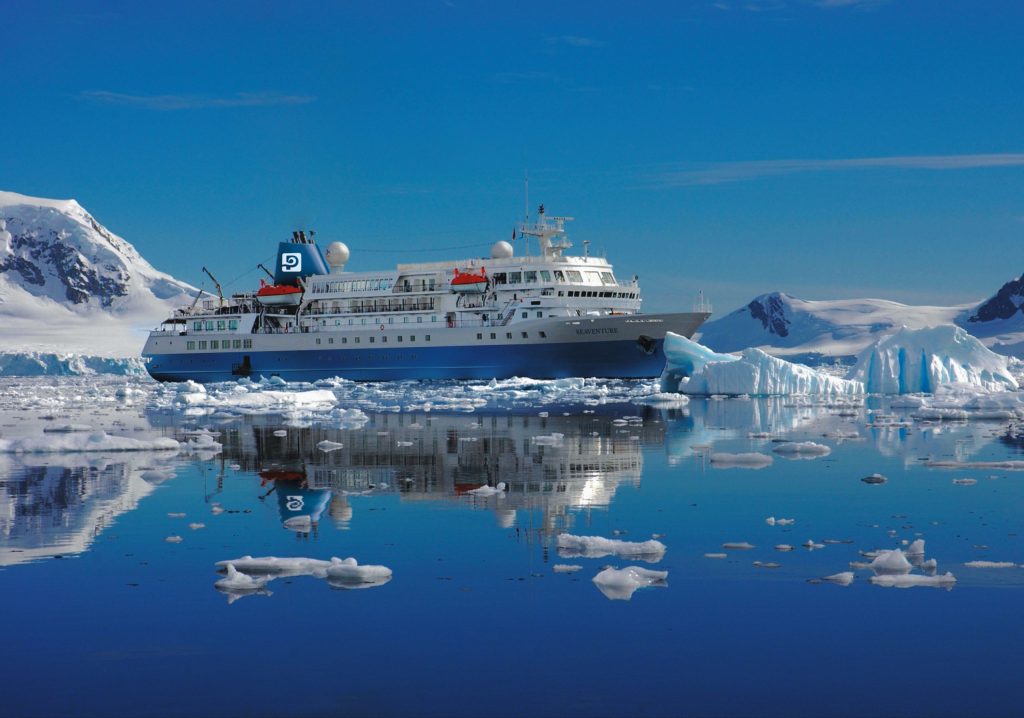 Seaventure features a 1-A Super ice class rating — the highest ice class awarded to passenger vessels. This means that we will be able to explore coves, bays, and channels that would previously have been forbidden to us. The ship also offers a host of new activities. There's a sauna, a fitness center, and a custom-built citizen science lab. There is more storage space, which is important because it means we can carry more equipment so that more of our guests can participate in activities like kayaking and camping. The common areas are larger and beautifully appointed, and the ship has two kitchens, one on the Lido deck for al fresco dining when weather permits.
ALL STATEROOMS FEATURE
WINDOW CABIN with FLIGHTS FROM MIAMI (MIA)
SINGLE: $18,000 or  DOUBLE: $16,000 per person
VERANDA CABIN with FLIGHTS FROM MIAMI (MIA)​
SINGLE: $22,000 per person   | DOUBLE: $20,000 per person
WHAT'S NOT INCLUDED:
Travel to Miami, FL
Travel insurance
Items of a personal nature
Alcoholic beverages unless noted
Transfers unless noted
TRAVEL INSURANCE:
Missing a vacation is bad enough. Losing the money you paid for your vacation is even worse. Trip insurance is therefore recommended. You can purchase travel insurance on your own. Click here to see referrals.
OCCUPANCY DETAILS:
Single occupancy = one person to a room
Double occupancy = two persons to a room
Each person in a room will have his or her own bed. Couples will have one Queen bed.
TRAVEL NOTES:
YOU MUST BE VACCINATED. All passengers, crew, and staff will be required to have a full course of an approved vaccine with at least 1 booster shot.
Roommate Match is available. 
Traveling abroad requires a passport valid for six months beyond travel dates. For this tour, your passport should not expire before June 10, 2025. Passengers are responsible for ensuring that they have the proper travel documents and MUST CHECK with the respective consulate(s) or visa agency to determine whether any visas or passports are required. Any information provided in the travel description pertains to US citizens only. Non-US citizens should check with the respective consulate of the country(s) to be visited for current entry requirements. Reservations must be made in your FULL NAME as it appears on your passport.
When making your reservations, you can choose to pay in full or select our convenient payment plan. If you select a payment plan, you will automatically be added to our auto-bill payment plan option. You can opt-out of this program by emailing us at info@thetraveldivas.com after you make your reservations.
Please review our auto-bill payment plan option.
Please note you should begin looking for flights 9 months before the event. Some travel sites will allow you to set alerts to advise you when prices are dropping.
Please note, the group flight will depart from Miami on November 28, 2024 and arrive in Ushuaia on November 29, 2024. We will depart from Ushuaia on December 10, 2024. We strongly suggest to find a flight to get you into Miami no later than 4 hours prior to departure time.
Provided full payment is received no later than your final payment due date, travel documents, itineraries and travel instructions will be sent via email 30 days or earlier prior to travel. All documents will be sent via electronic mail.
It is the guests' responsibility to notify Premier Travel One and Travel Divas of all email address changes.
Men are welcome to attend this event at the same rate.
Making reservations for this package signifies your acceptance of our terms and conditions.
All of your payments to Premier Travel One and Travel Divas are non-refundable and non-transferrable.
Reservations must be made in your full name as it appears on your passport.
Prices are subject to change without notice. Please make your reservations today at this low price to be locked in.
A valid passport is required. If you do not have a passport, please apply for a passport no later than December 1, 2022.
Monthly payments are required to keep your reservations current. A reservation that has gone 60 days without a monthly payment can be cancelled without notice.
You must ensure your roommate, if applicable, is also making timely monthly payments.
Once you make your reservations, you can log-in to our client portal to view your account 24 hours a day.
Name changes are allowed with a $100 name change fee up until your final payment date on your invoice
Late payment of $100 per person is required after final due date. All late payment requests must be approved by management before the final payment deadline on your account.
You are responsible to keep Premier Travel One and Travel Divas informed of email address changes as this is our primary way of communication.