Valiant Lady
From Barcelona, Spain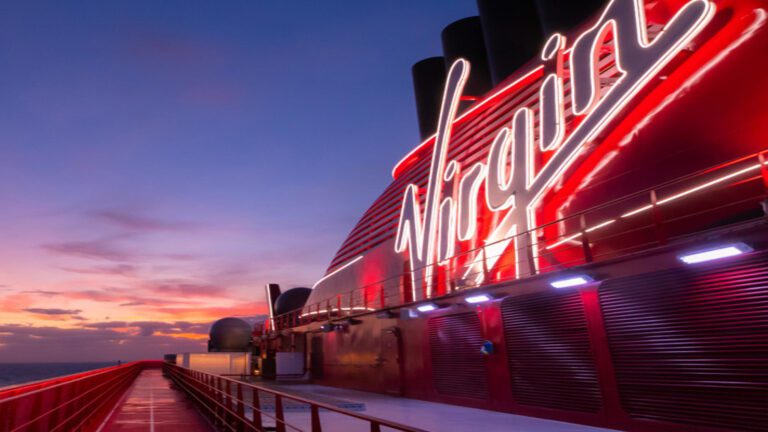 Valiant Lady
From Barcelona, Spain
Summer on the Mediterranean
Pristine beaches and medieval castles. Panoramic hikes and cascading hilltops filled with sun-bleached and pastel-colored homes. Electric nights in Ibiza and summer evenings sipping Tuscan wine. We're setting sail through the Mediterranean Sea to some of Europe's most iconic ports. Full of itineraries with late stays and overnights, we bring you the perfect dose of historical exploration, cultural celebration and ultimate relaxation.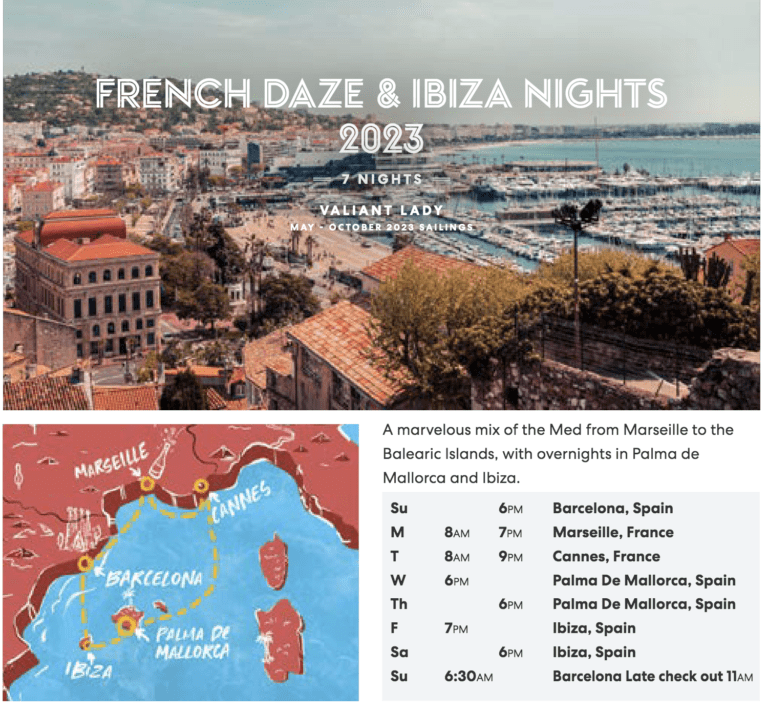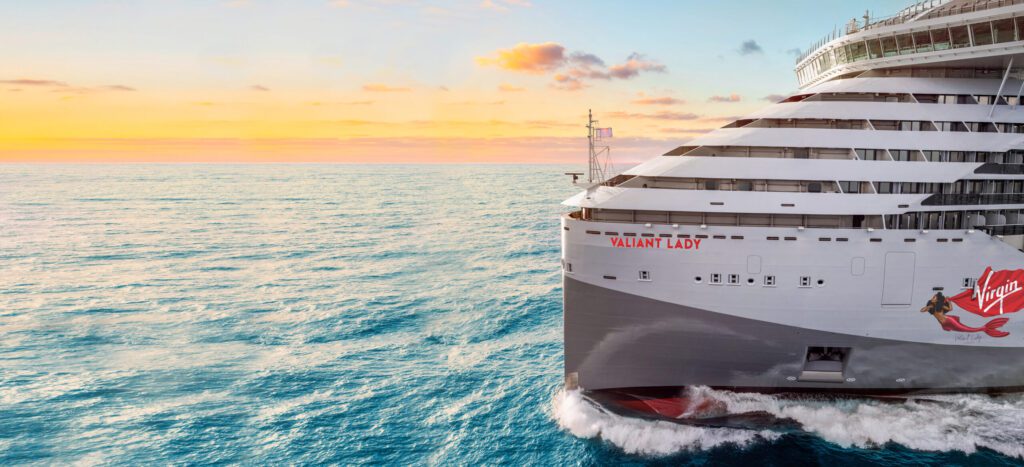 VALIANT LADY... from BARCELONA, SPAIN
Sea View
A room with a (porthole) view
For solo Sailors looking for quiet moments with the sea from our super large single beds, or duos perched on our nautically-inspired window seats — the ocean is yours to make eyes with. Gazing out at the waves every morning, this is the closest you can get to the ocean (without the windblown hair).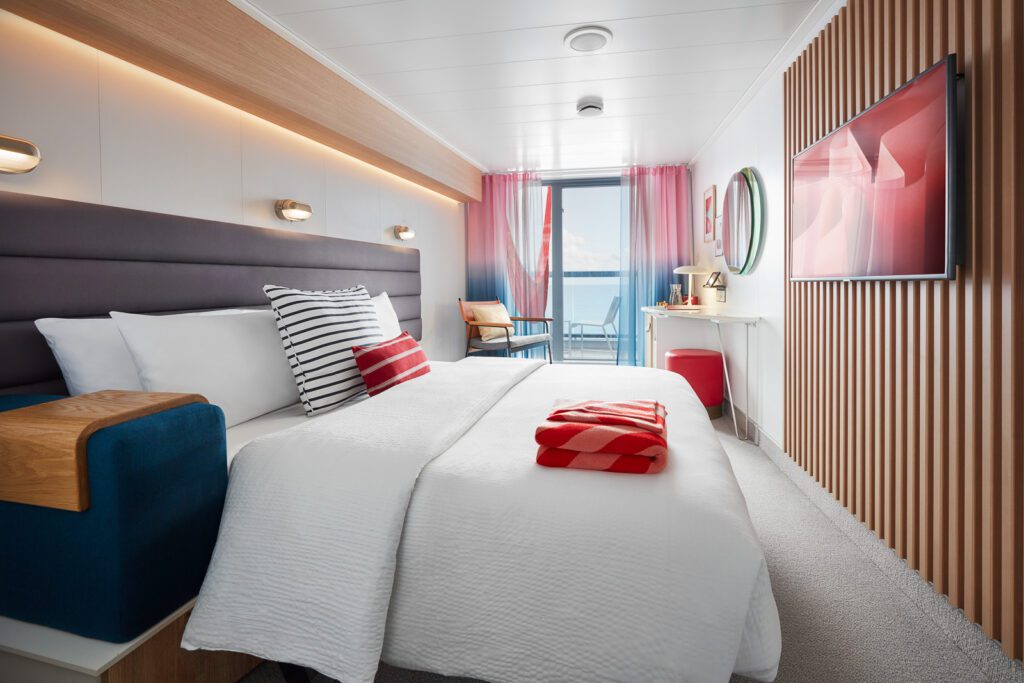 Sea Terrace
That horizon won't gaze at itself
Whether you're getting ready inside at the glam area, rinsing off in your Roomy Rainshower or relaxing outside on your hand-woven terrace hammock (that almost all of our Sea Terraces offer), our spaces are designed to give you sweeping views of the horizon as our mood lighting intuitively matches the light from the oncoming sunset.
SINGLE: $4000 or  DOUBLE: $2100 per person
SINGLE: $4500 per person   | DOUBLE: $2400 per person
SINGLE: $5300 per person   | DOUBLE: $2800 per person
SINGLE: $7700 per person   | DOUBLE: $3800 per person
WHAT'S NOT INCLUDED:
Travel to Barcelona, Spain
Travel insurance
Items of a personal nature
Alcoholic beverages unless noted
Transportation from airport to cruise port
TRAVEL INSURANCE:
Missing a vacation is bad enough. Losing the money you paid for your vacation is even worse. Trip insurance is therefore recommended. You can purchase travel insurance on your own. Click here to see referrals.
OCCUPANCY DETAILS:
Single occupancy = one person to a room
Double occupancy = two persons to a room
Each person in a room will have his or her own bed. Couples will have one king bed.
TRAVEL NOTES:
YOU MUST BE VACCINATED. 
Roommate Match is available. 
Passengers are responsible for ensuring that they have the proper travel documents and MUST CHECK with the respective consulate(s) or visa agency to determine whether any visas or passports are required. Passports are required to be valid for at least 6 months after the date of travel. Some countries require a full blank "VISA" page in the passport for stamping purposes. Any information provided on travel description pertains to US citizens only. Non-US citizens should check with the respective consulate of the country(s) to be visited for current entry requirements. Reservations must be made in your FULL NAME as it appears on your passport.
When making your reservations, you can choose to pay in full or select our convenient payment plan. If you select a payment plan, you will automatically be added to our auto-bill payment plan option. You can opt-out of this program by emailing us at info@thetraveldivas.com after you make your reservations.
Please review our auto-bill payment plan option.
Please note you should begin looking for flights 9 months before event. Some travel sites will allow you to set alerts to advise you when prices are dropping.
We strongly suggest to find a flight to get you into Barcelona no later than 2PM. You should arrive to the cruise port and ship no later than 3PM. No exceptions!
Please note you should leave the United States on June 10th to arrive in Barcelona on June 11th. The airport code for Barcelona, Spain is BCN. 
Provided full payment is received no later than your final payment due date, travel documents, itineraries and travel instructions will be sent via email 30 days or earlier prior to travel. All documents will be sent via electronic mail.
It is the guests' responsibility to notify Premier Travel One and Travel Divas of all email address changes.
Men are welcome to attend this event.
 
Making reservations for this package signifies your acceptance of our terms and conditions.
All of your payments to Premier Travel One and Travel Divas are non-refundable and non-transferrable.
Reservations must be made in your full name as it appears on your passport.
Prices are subject to change without notice. Please make your reservations today at this low price to be locked in.
A valid passport is required. If you do not have a passport, please apply for a passport no later than December 1, 2022.
Monthly payments are required to keep your reservations current. A reservation that has gone 60 days without a monthly payment can be cancelled without notice.
You must ensure your roommate, if applicable, is also making timely monthly payments.
Once you make your reservations, you can log-in to our client portal to view your account 24 hours a day.
Name changes are allowed with a $100 name change fee up until your final payment date on your invoice
Late payment of $100 per person is required after final due date. All late payment requests must be approved by management before the final payment deadline on your account.
You are responsible to keep Premier Travel One and Travel Divas informed of email address changes as this is our primary way of communication.