Do you remember back in 2015 when we debuted our TCFSwim event? Selling out in a day? A pool party? A swim fashion show? Well, we do and remember how much fun we had, the experience, the memories…So much so, that when we added the TCFCruise, we had so much fun that we had to bring it back! We heard you and we are taking our TCFSwim to the next level with our 2019 TCFCruise!
You've asked and we listened! One of the biggest call outs, especially from years past, was to take a trip, going somewhere for a girl's adventure, and guess what? We heard you and we are taking our TCFSwim to the next level with our 2019 TCFCruise!
Yes girl, we are going on a cruise! And to make things even fancier, we've partnered with The Travel Divas to take care of us!
TRIP DETAILS
ABOUT CARNIVAL MAGIC
We knew exactly what we were doing when we named this ship Carnival Magic… and we're sure you'll agree.
At 1,004 feet, this one continued the Dream class tradition of large-scale, bow-to-stern cruise ship fun including the food-and-entertainment space Ocean Plaza, the splashy stylings of Carnival WaterWorks… and The Lanai, a convenient, scenic half-mile outdoor wraparound promenade deck. In other words, a cruise on Carnival Magic has no shortage of its namesake charm!
It's no surprise Carnival Magic debuted all-new ways to have a good time on board, and continues to prove it with the outdoor fitness-and-fun of SportSquare, featuring the world's first ropes course at sea.
This is also the ship that introduced the world to Cucina del Capitano, which serves up Italian favorites fit for a captain. Who can forget their first taste of RedFrog Pub, with its laid back, not-a-worry-to-be-found atmosphere… plus its exclusive, tasty, not-a-drop-to-be-found (on land, that is) beer, ThirstyFrog® Red. And if you wanted to visit the original Guy's Pig & Anchor Bar-B-Que Smokehouse… guess which ship you'd check out!
Keeping with the times, Carnival Magic features the delicious good times of Guy's Burger Joint, BlueIguana Cantina, Alchemy Bar and RedFrog Rum Bar. And keeping with the moves, there's even Lip Sync Battle: Carnival, which lets you showcase yours up on stage.
Carnival Magic has a history of starting good things… and sharing them with guests.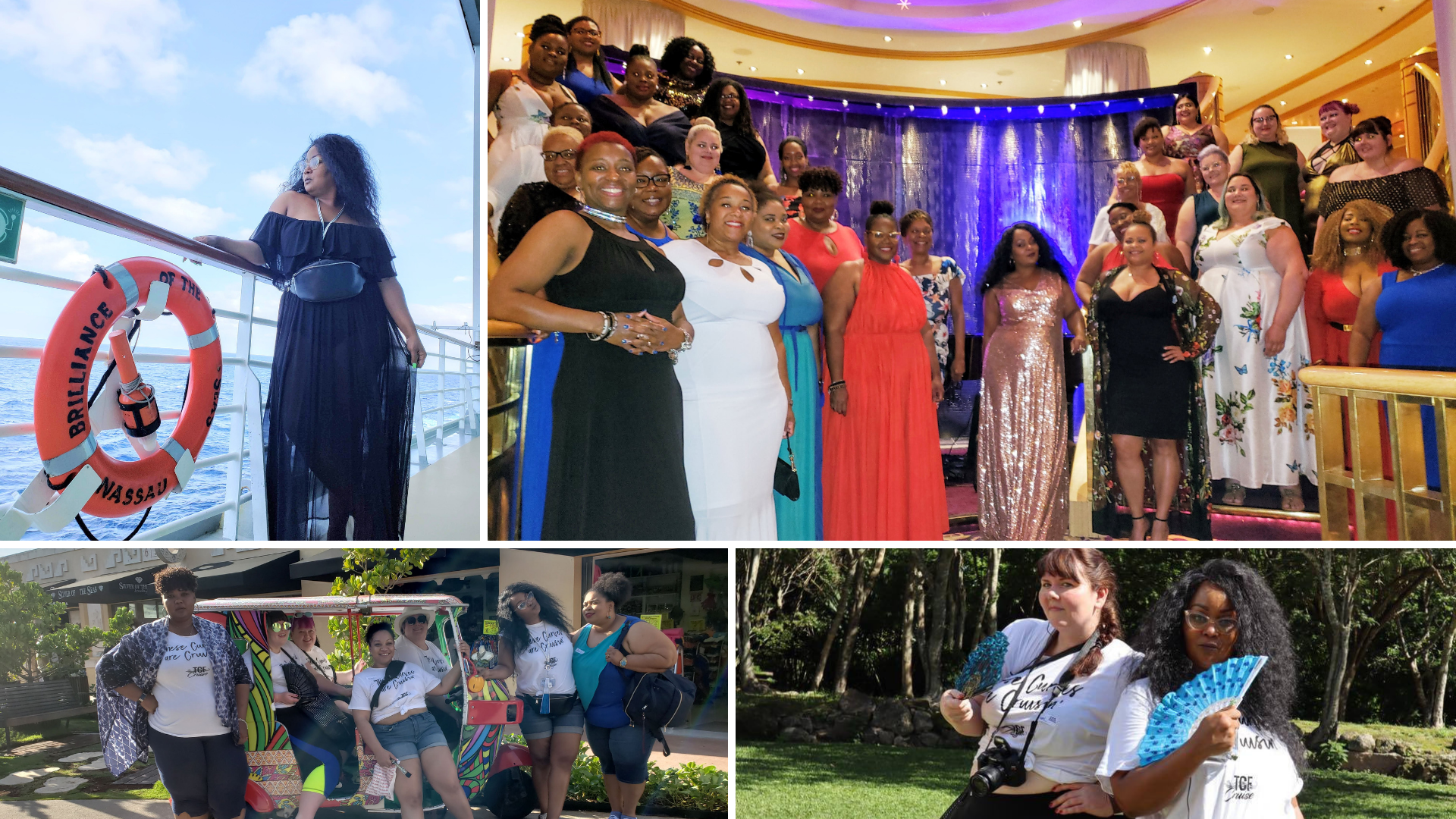 FULL PACKAGE INCLUDES:
6 Nights aboard Carnival Magic
All meals and non-carbonated drinks
Meet and Greet Kaftan Party
Bold in Blue Dinner Party
Denim & Pearls Tea Party
Selfie Cocktail Party
Exclusive Event Gift Bag with a T-shirt
CRUISE ITINERARY
Sun, Oct 6: Ft. Lauderdale, FL, 4 pm
Mon, Oct 7: Fun Day at Sea
Tue, Oct 8: Half Moon Cay, The Bahamas, 8 am – 4 pm
Wed, Oct 9: Grand Turk, 11 am – 6 pm
Thu, Oct 10: Amber Cove, Dominican Republic, 8 am – 4 pm
Fri, Oct 11: Fun Day at Sea
Sat, Oct 12: Ft. Lauderdale, FL,  8 am
the curvy fashionista past photos
Accommodations
Carnival Magic



On a Carnival cruise, your stateroom is your home base. When the day is done, once you've had your fill of fun, you'll head back to your stateroom and settle in for the night. No matter which kind of room you choose — whether you're thinking of a simple Interior or Ocean View, or going grand with a Balcony— you'll find yours a well-appointed way to wind down the day. And whether it's day or night, all staterooms have a room steward on duty, an attendant you can call for complimentary room service, and more sweet perks inside.
INTERIOR CABIN
An Interior stateroom is the most affordable way to cruise, and Carnival Magic's interiors are not just cozy, but are full of things you'd expect from any Carnival stateroom.
OCEANVIEW CABIN
Catch a glimpse of what's going by from your Ocean View stateroom aboard Carnival Magic, where you'll get views you won't find anywhere on land. Don't miss sunrise and sunset at sea — your comfy stateroom is the best way to experience these!
BALCONY CABIN
Balcony staterooms were designed for maximum sea breeze and the most stunning views, so look to a balcony if you're looking to cruise aboard Carnival Magic. Any time you're in your room, you're just steps away from your own personal outdoor oasis, featuring the sort of sea view you can also feel.
Reserve Your Trip Now
INTERIOR CABIN
SINGLE: $1100 per person   |   DOUBLE: $725 per person  |   TRIPLE: $655 per person  |   QUAD: $625 per person
OCEAN VIEW CABIN
SINGLE: $1375 per person   |   DOUBLE: $855 per person  |   TRIPLE: $745 per person  |   QUAD: $685 per person
BALCONY CABIN
SINGLE: $1555 per person   |   DOUBLE: $950 per person  |   TRIPLE: $805 per person  |   QUAD: $735 per person
ADDITIONAL INFORMATION
WHAT'S NOT INCLUDED:
Gratuities of $13.99 per person, per day
Travel insurance
Items of a personal nature
Transportation to Miami, FL
Transportation from airport to cruise port
TRAVEL INSURANCE:
Missing a vacation is bad enough. Losing the money you paid for your vacation is even worse. Trip insurance is therefore highly recommended. Please review Carnival's travel insurance here.
Interior cabin: $49 per person
Ocean View cabin: $79 per person
Balcony cabin: $109 per person
OCCUPANCY DETAILS:
Single occupancy = one person to a room
Double occupancy = two persons to a room
Triple occupancy = three persons to a room
Quad occupancy = four persons to a room
Each person in a room will have his or her own bed. Couples will have one king bed.
TRAVEL NOTES:
Traveling on a Carnival cruise requires a valid driver's license and certified birth certificate or a valid U.S. passport.
When making your reservations, you can choose to pay in full or select our convenient payment plan. If you select a payment plan, you will automatically be added to our auto-bill payment plan option. You can opt-out of this program by emailing us at info@thetraveldivas.com after you make your reservations.
Please review our auto-bill payment plan option.
If you choose monthly payment plan, you will receive monthly notices when your payment is due.
TRAVEL NOTES:
Please note you should begin looking for flights 9 months before event. Some travel sites will allow you to set alerts to advise you when prices are dropping. You should purchase your flight no later than 30 days before the trip.
We strongly suggest you find a flight to get you into Miami or Ft Lauderdale no later than 12 pm. You should arrive at the cruise port and ship no later than 3 pm. No exceptions!
Provided full payment is received no later than your final payment due date, travel documents, itineraries and travel instructions will be sent via email 30 days or earlier prior to travel. All documents will be sent via electronic mail.
It is the guests' responsibility to notify Premier Travel One and Travel Divas of all email address changes.
Men and children are welcome to attend this event at same price.
If you would like a Suite, please send an email to info@thetraveldivas.com and be prepared to make a $400 per person deposit (deposit fee can change).
Making reservations for this package signifies your acceptance of our terms and conditions.
All of your payments to Premier Travel One and Travel Divas are non-refundable and non-transferrable.
Reservations must be made in your full name as it appears on your passport.
Prices are subject to change without notice. Please make your reservations today at this low price to be locked in.
A valid passport is suggested but you can also cruise with a certified birth certificate.
Monthly payments are required to keep your reservations current.
You must ensure your roommate, if applicable, is also making timely monthly payments.
Once you make your reservations, you can log-in to our client portal to view your account 24 hours a day.
Name changes are allowed with a $50 name change fee.
Late payment of $100 per person is required after final due date. All late payment requests must be approved by management before the final payment deadline on your account.
You are responsible to keep Premier Travel One and Travel Divas informed of email address changes as this is our primary way of communication.