Addis Ababa, Jinka, Lalibela, Turmi, Arba Minch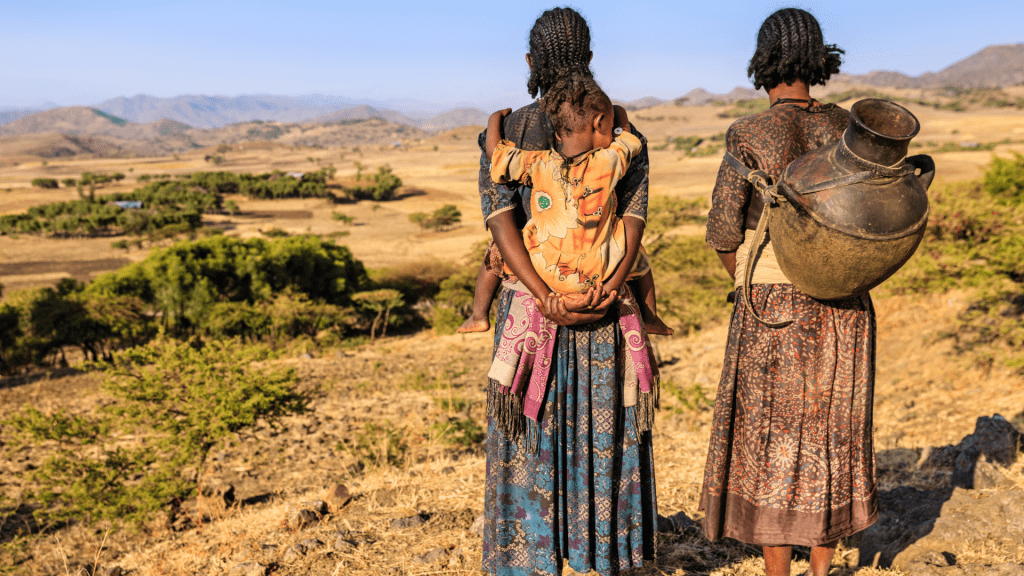 Addis Ababa, Jinka, Lalibela, Turmi, Arba Minch
Join us as we discover the untapped and rich history of Ethiopia.
Journey through the "Cradle of Mankind" on this cultural and historical tour exploring the history, the present and the future, including visiting local tribes, dining with breathtaking views, and visiting sanctuaries from the early days of Christianity. 
All Red Welcome Dinner 

Visit the National Museum to see Lucy, a 3.2 million-year old fossil skeleton of a human ancestor

Cultural visits with the Mursi People, Dasenach, Hamer, and Dorze Tribes
SEE OUR PAST AFRICA TOUR PHOTOS
Hyatt Regency Addis Ababa - Addis Ababa
Hyatt Regency is located just 15 minutes  from Bole international airport, and most centrally located on Meskel Square, connecting the large artery roads of Addis Ababa. The hotel stands within a short walking distance to the United Nations Conference center and within a 15 min.  drive to the African Union Headquarters with the largest conference facilities in the country.
Discover a tasteful and refined but casual and comfortable guest rooms and suites that suit your long stay need and provide guests with a work from home solution. Hyatt Regency offers families, business travelers and large groups contemporary amenities in spacious, technically up to date, clean lodging.
Ensuring the ultimate comfort for our guest, our twin rooms are 24 sqm and can accommodate up to two people in adjacent twin beds. We avail one accessible room.
Complimentary High Speed Internet
55-inch flat-screen TV with cable/satellite channels
Individually controlled heat and air-conditioning
Laptop-size in-room safe
Coffee- and tea-making facilities
Mini fridge
Hair dryer
Iron and ironing board
Plush bathrobes and slippers
Walk-in rain shower
Cordless speaker phone
Premium skin and hair care amenities
24-hour in-room dining
24-hour concierge and valet service
Maribela Hotel - Lalibela
The hotel was built with a very appealing design, inspired by the famous rock-carved churches of Lalibela.
Maribela is Amharic for Lalibela. This ancient city is the home of Hotel Maribela. Our goal is to make every guest's stay in Lalibela better than they ever imagined. Set near an awe-inspiring chain of mountains, staff and management prepare very carefully to ensure maximum client satisfaction. Whether you are taking a relaxing walk in the nearby garden or preparing for a meal in the expansive restaurant, every consideration has been taken to create the best quality experience for you.
Lalibela has been Ethiopia's major tourist attraction for a very long time. In opening Hotel Maribela the owner and management staff hope to make every guest's stay one that they will never forget.
Hotel Maribela's friendly staff offers its guests unsurpassed comfort in an elegant and relaxing hospitality environment. The hotel was designed by professional architects, who were inspired by the famous Lalibela Rock Hewn churches, and immediately impress visitors with its spaciousness and elegance.
Emerald Resort & Lodge - Turmi
Lying 850 kilometers south of Addis, Emerald Resort straddles a hilltop between two of Ethiopia's Rift Valley lakes, Abaya and Chamo, and overlooks the dense forest of Netch Sar National Park. Perfectly placed for excursions into the area, it's also the gateway to the remote southern villages and ancient cultures of the otherworldly Omo Valley. This is an area of exceptional natural beauty, and the resort has been designed to take advantage of it all. Surrounded by lush gardens and equipped with every luxury you might need, Emerald offers smart service, accommodations you'll enjoy, and some exciting attractions.
Emerald's thatched lapas and open-sided structures are an innovative blend of global designs. You enter through the hive-like reception area, from which you get some idea of the forested valley below. A broad deck clings to the hillside, adjoining the outdoor pool and restaurant – the heart of the resort (there's also a pizzeria). There's a well-equipped gym with a view, a spa that supplies a full menu of treatments, an ATM cash machine, and, for campers, a large campsite.
Accommodation is in 82 rooms scattered around the property, from small to presidential. Elegantly designed and furnished with traditional art, the rooms reflect Bali-meets-Africa design, with thatched roofs, and lovely woodwork and fabrics. Four-poster, mosquito-draped beds are standard. Bathrooms are en suite and outfitted with high-pressure showers and double basins.
Haile Resort Arba Minch - Arba Minch
Arba Minch is the home of two Ethiopia's largest rift valley lakes (Abaya and Chamo), beautiful landscape (God's Bridge), Forty (40) springs Nechisar National Park, Crocodile ranches, Crocodiles market and the highland of Dorze village on its doorstep. The city is also used as a gateway to the Omo valley and Konso on the Southern circuit. It is one of the best destinations in Ethiopia.

Haile-Arba Minch is a 107 room four-star resort located at a grand view overlooking the twin lakes of Abaya and Chamo along the beautiful evergreen vegetation and chain of mountains that form the most beautiful pattern. Haile-Arba Minch is an all-inclusive concept that provides five-star services to its guests. Our new resort features food and beverage outlets on viewpoints; complete health club and wellness center, conference and wedding venue, outdoor activities with kid's playground and several other facilities.
All our rooms have a view from the balcony. They are well-equipped with reading table and chair, power shower, WC with herbal amenities, hairdryer, intercom telephone, mini-bar, tea and coffee making facilities, TV (satellite), safe box, individually controlled air conditioning and Wi-Fi.
FULL PACKAGE - INCLUDES FLIGHT FROM NEW YORK
SINGLE: $8,899 per person   |   DOUBLE: $6,899 per person
LAND ONLY - NO FLIGHT INCLUDED FROM NEW YORK
SINGLE: $6,199 per person   |   DOUBLE: $4,199 per person
WHAT'S NOT INCLUDED:
Travel Insurance

Gratuities for Tour Guide (suggested $10-$20 per day)

Gratuities for Driver (suggested $5-$10 per day)

Gratuities for Waiters/waitress (suggested $2 per person)

Items of a personal nature

Meals except where noted

Additional excursion offered by tour guide
TRAVEL INSURANCE:
Missing a vacation is bad enough. Losing the money you paid for your vacation is even worse. Trip insurance is therefore recommended. You can purchase travel insurance on your own.
FLIGHT SCHEDULE:
Flight itinerary – TBA 

Flight schedule is subject to change
TRAVEL NOTES:
Traveling abroad require a passport valid for six months beyond travel dates. For this tour, your passport should not expire before April 14, 2024.

Men and children are welcome at the same rate. 

All prices are based on the rates of exchange in effect at the time of price quotation. In the event that the US dollar devalues, Premier Travel One and Travel Divas reserves the right to increase prices accordingly. Your final invoice will reflect increases resulting from currency devaluation.

Roommate Matching is offered for this tour. If you want to be matched, please enter "Roommate Requested" on the reservation form where if asks for your roommate name. Also, please note roommate matching does not take place until after 75% of the cost of the package is paid.
The group flight will leave US on October 7, 2023 and arrive in Addis Ababa, Ethiopia on October 8, 2023. Check-in into the hotel is October 8, 2023.  If you are purchasing your own flight, you should make note of these dates and plan your flight and airport transfer accordingly.

Full Itinerary will be emailed to you 60 Days in advance to plan your free time.
AUTOMATIC BILLING PLAN:
You can enroll in our automatic billing and relax knowing that your future payments will be made automatically. When you book, we'll calculate an evenly divided automatic billing plan for you, and you will know in advance the day of every month that your payment will be processed. Your initial deposit is due at the time of booking, and your future payments will be charged according to the schedule you see on your invoice. Automatic billing is available at no charge.
Making reservations for this package signifies your acceptance of our Terms and Conditions.

All payments to Premier Travel One and Travel Divas are non-refundable and non-transferrable.  This is because Premier Travel One d/b/a Travel Divas has contractual agreements with hotels, airlines and other vendors that will not allow us to obtain any refunds. This way we can keep our package prices low and allow you to make monthly payments on your vacation.

Passengers are responsible for ensuring that they have the proper travel documents and MUST CHECK with the respective consulate(s) or visa agency to determine whether any visas or passports are required. Passports are required to be valid for at least 6 months after the date of travel. Some countries require a full blank "VISA" page in the passport for stamping purposes. Any information provided on travel description pertains to US citizens only. Non-US citizens should check with the respective consulate of the country(s) to be visited for current entry requirements.  Reservations must be made in your FULL NAME as it appears on your passport.

Missing a vacation is bad enough. Losing the money you paid for your vacation is even worse; therefore, we recommend Travel Protection that helps provide coverage for Trip Cancellation, Interruption, Baggage Loss or Delay, Medial Express, and more.  We have a full list of travel insurance vendors. Click

here

to see referrals. 

Seat assignments ARE at the discretion of the airline.  Seats for this group tour are only located in economy class. If you require a certain seat, we recommend booking the land only package.

Prices are subject to change without notice. Please make your reservations today at this low price to be locked in.

Monthly payments are required to keep your reservations current unless you make larger payments than what is required of your monthly payment plan.  Your invoice will clearly note your payment plan. We suggest you put this payment plan on your personal calendar.

You must ensure your roommate, if applicable, is also making timely monthly payments.

Roommate Matching is available.
You can log-in to our client portal to view your account 24 hours a day.

Name changes are allowed with a $200 name change fee up until the final payment date and $250 after final payment date plus any vendor fees.

Late payment of $250 per person is required after final due date listed on your payment plan.  Late payment fees are automatically added to your reservation the day after your final due date.

All late payment requests must be approved by management before the final payment deadline on your invoice.